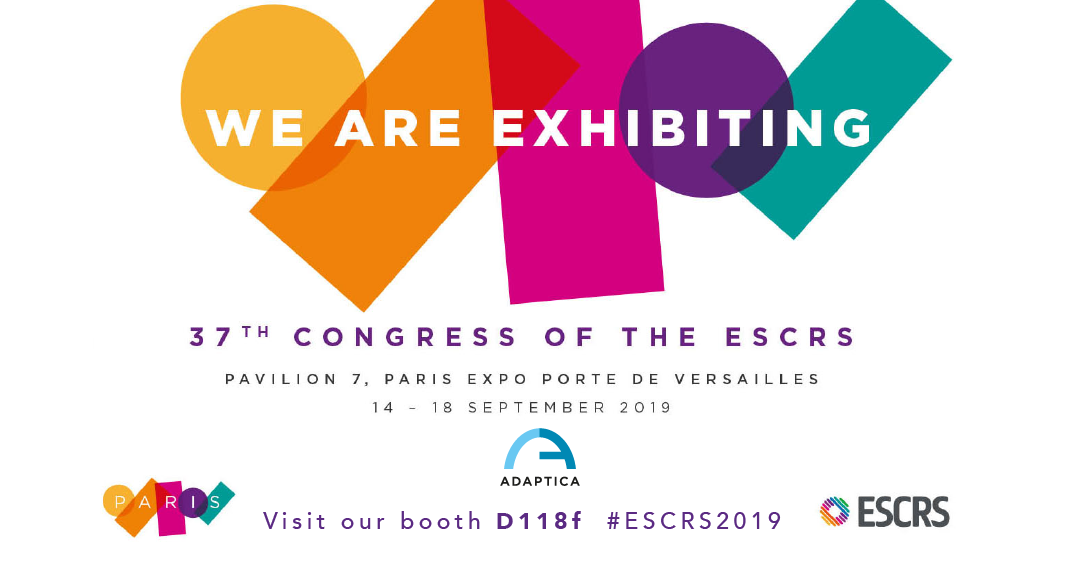 ESCRS, the European Society of Cataract and Refractive Surgeons, was founded in 1991 to promote education and research in the field of implant and refractive surgery and to advance and promote the study and practice of ophthalmology. ESCRS seeks to promote and support research in the field of intraocular lens implantation and refractive surgery and the dissemination of the useful results thereof. ESCRS has over 7,500 members from 130 countries world-wide.
Every year, two times a year, an exhibition is held in a different city. This year the 37 th  Congress will take place between the 14-18 September 2019 in Pavilion 7, Paris Expo Porte de Versailles, Paris.
For Adaptica, ESCRS is the most important Exhibition of the year and this time we decided to think big.
This year we will celebrate the 10 years anniversary of our company and, with the occasion, we are proud to share with you many news, our ultimate new design, a big reveal and many surprises.
A new product will be released, a dedicated space will be installed to show the best potentialities of this device. You will have the possibilities to try it in the smallest refraction room you have ever seen. No spoilers, you will discover everything at ESCRS.
We will wait you at our Booth, where we will arrange three workshops about our products and our company. The speakers will be three selected and special KOL.
During the first workshop that will be held on the 14 th of September, our beloved Dr. Mario Angi, Ophthalmologist and President of CMB Italia Onlus will give a lecture about the evolution of the refractive devices "From "Red Reflex" to Videorefraction".
The 15 th of September we will have the pleasure to host Mr. Dennis Norris, OneSight Senior Director of Global Programming who will talk about the use of our equipment on the field during OneSight's projects around the world.
The last day of the workshops, the 16 th of September our guest will be Dr. Konstantinos Kakoulidis, M.D., PhD and FEBO of He Vision Group who will have a talk about our Versatile refraction system.
After the workshops you will be our guests for a sparkling aperitif at our booth.
If you want to see the full program or participate to the workshop click the botton below.
Come visit our booth # D 118 f, and stay tuned.