2WIN-S plus
First and Unique A.I. based Vision Screener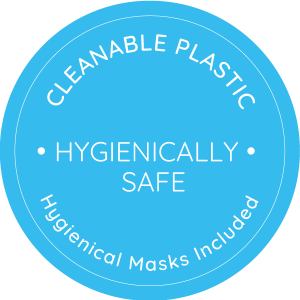 Fast and Multifunctional: Objective Refraction has never been so fast and pleasant.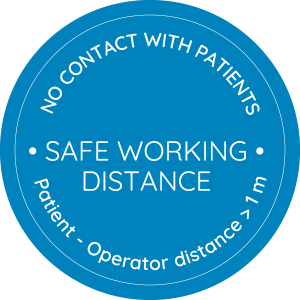 2WIN-S plus is the only Vision Screener that makes a complete binocular measurement of Objective Refraction, Amblyogenic Factors' Screening and Anterior Segment Anomalies Screening in just 3 seconds. The patient's eyes are analyzed at the same time in real life vision conditions, with no need of cycloplegic drops.
2WIN-S plus is controlled by a Remote Console, which gives you the opportunity to perform the measurement at a safety distance > 1 m from the patient.
This allows the operator to use the device at the distance that makes him more comfortable. 2WIN-S plus is also provided with hygienical masks that are sanitizable for multiuse purpose.  
Thanks to its special Corneal Reflexes function, 2WIN-S plus is able also to detect possible phorias and tropias. The speed of operation and the variety of detected parameters make 2WIN-S plus the best solution to collect the highest number of information on the patient's eyes reducing the examination time.
EyeROBO®
2WIN-S plus is powered by EyeROBO®: an A.I. based platform that runs on top patented hardware, combining the widest range of eye examinations and technologies in the market, with a unique high-density storage solution for data management and inter-connectivity, addressed to specialists of the eye-care, eye-fashion and data collection.
Anterior Segment Screening
Anterior Segment Screening function is a complete A.I. system on the cloud for anomalies in the anterior segment of the eye. The A.I. algorithm running on the EyeROBO® platform is based on a Convolutional Neural Network and it has been trained on thousands of pupils.
The pupils' images acquired by 2WIN-S plus during the measurement are instantly processed by the EyeROBO® platform and, if any anomaly of the anterior segment is detected, a warning is given to the operator with the indication of the eye, if right and/or left.
2WIN-S plus is the device with the highest ROI in the market
Adaptica is working through business models to leverage the benefits 2WIN-S plus has in different fields. Thanks to the business studies we made in the past years, we focused to highlight the point of difference, the strengths the device has. For each field, 2WIN-S plus can help to increase the number of patients that need an examination. This is why we can define 2WIN-S plus as the device with the fastest ROI in the market.
Ophthalmologists
Fast and Accurate
No need of a skilled operator
Reduced exam time
Save office space
Data Collection: Unlimited CLOUD Storage
Immediate Referral: A.I. based screening function of Anterior Segment
Suitable for Kids
Integrated Refraction System
EMR Integration available
Optometrists
Fast and accurate: Reduced exam time
Portable: suitable for home visits and screening projects
Data Collection: Unlimited CLOUD Storage
Immediate Referral: A.I. based screening function of Anterior Segment
Durable and sturdy
Suitable for Kids
Costs saving
EMR Integration available
Pharmacies
Fully Automatic: anyone can do the measurement independently
Immediate Referral: A.I. based screening function of Anterior Segment
Fast: Complete measurement in just 3 seconds. Do it while you are in line
Easy to use: intuitive application
Data collector
EMR Integration available
Opticians
Fast and Accurate
No need of a skilled operator
Attractive design
Perfect Marketing tool
Reduced exam time
Save optical shop space
Suitable for Kids
NGOs
Portable

Durable and sturdy

Long-lasting batteries lives

Perfect for Screening programs

Data Collection: Unlimited CLOUD Storage

Immediate Referral: A.I. based screening function of Anterior Segment

Light independent, use it everywhere!

Suitable for Kids

No need of a skilled operator

Costs saving

EMR Integration available
Sport Vision
Allows to refract the patient in free posture
Fast: just 3'' measurement
Binocular Refraction
Portable: take the measurement everywhere
No skilled operator needed
Data collector
The highest connectivity levels
Thanks to its direct connection to Adaptica Cloud, 2WIN-S plus allows to collect, store and process unlimited amounts of data. 2WIN-S Plus provides also EMR integration through shared folder.
The shared folder allows to input patient data from your EMR System directly to 2WIN-S plus. Once the measurement is completed, the exam data and exam report are automatically synchronized with your EMR System.
Portable and fully automatic
2WIN-S plus is remotely controlled by a user-friendly application running on a dedicated remote console. Its ease of use allows to delegate measurements also to a not specialized operator: the measurement is fully automatic and only requires the operator's confirmation to start.
2WIN-S plus, thanks to a practical trolley suitcase, can be transported everywhere. The device serves as a portable dark room that allows the examination in any environment and light condition.
Technical Information
The perfect start to define the eyes' necessary correction.
TARGET
Opticians & Optometrists – helps with practice efficiency

Ophthalmologists – working with infants, children and getting fast report for adults

Pediatricians – can screen infants and children

Mission trips – enables large scale screening and exams

Data Collection

Pharmacies

Sport Vision

Corporate Clinics – enables workforce screening

Schools – enables mass screenings
MEASUREMENTS
Binocular Refraction

Monocular Refraction

Pupil Distance

Pupil Size

Head Tilt

Direction of Gaze

Phorias and Tropias

Anterior Segment Anomalies
KEY FEATURES
Fully automated and easy to use

A.I. Based

Binocular refraction, with early detection of refractive errors

Anterior Segment screening

EMR compatibility

Dedicated tablet control

Fast measurement

Battery operated

No drops required

Customizable exam report
SPECIFICATIONS
Operating mode: Binocular/ Monocular
Refraction Measurement: Automatic
Anterior Segment Screening: A.I. based, automatic
Corneal Reflexes: Detection of phorias and tropias up to 30 prism diopters
Sphere Range: ±15 D
Cylinder Range: ±5 D
Cylinder Axis: 1°–180°, step 1°
Pupil Size: 4–11 mm, step 0.1 mm
Pupil Distance: Automatic detection, 30–120 mm, step 1 mm
Fixation Target: Built-in
Acoustic Target: Built-in
Remote Control: Dedicated Remote Console
Connectivity: Bluetooth
User Interface: Android application providing remote control, live streaming, data management
Data Interface: Bluetooth, Wi-Fi, internal microSD card
Data Management: Cloud-storage compatible system
EMR Integration: Shared folder, customizable
Printer Interface: Through the remote console (Wi-Fi, Bluetooth, email)
Tube Size: 119 x 23 x 15 cm
Metal Stand Size: 45 x 32 x 21,5 cm
Max Height Operation system: 130 cm
Net Weight: 4,5 kg
Power: Rechargeable Battery pack, 50 Wh
Battery Charge: AC/DC medical power supply 18V, 40W
The A.I. Revolution in the EyeCare System