Aquid
Portable Wireless Adaptive Refractor
The new frontier in subjective refraction
Aquid is an innovative, electronic and mobile adaptive refractor.
It performs a subjective sight examination and effectively replaces both the trial frame and the manual/electronic phoropter functionalities.
Due to Aquid's slim and compact design, the peripheral vision is wider than any other phoropter available, giving the patients more confidence in the accuracy of the final prescription.
Aquid is the less voluminous table-top phoropter available. It's designed to allow refraction in any environment and, thanks to its transportable arm, it can be attached to every flat surface accessible, wherever you are.
Smooth and continuous adjustment
Aquid is equipped with electronically controlled liquid lenses that, with their continuous movement, provide adjustable step resolution down to 0.05D. The Aquid application drives the phoropter instantly, reducing the examination time and inhibiting the accommodation.
Eye-chart distance compensation
Aquid allows the simulation of farsightedness even if the distance between a patient and eye-chart is less than the standard distance considered as the far point (5/6 meters).
The adaptive lenses compensate the working distance, allowing the doctor to perform far sight examination even in the smallest rooms.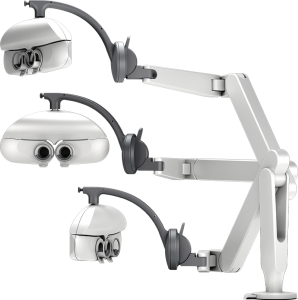 Subscribe to our email Newsletter
Subscribe to our email newsletter for useful tips, special promotions and valuable resources.