Unique A.I. solutions for Eye Care
"Globally, at least 2.2 billion people have a vision impairment, and of these, at least 1 billion people have a vision impairment that could have been prevented or is yet to be addressed. In a world built on the ability to see, vision, the most dominant of our senses, is vital at every turn of our lives. (…)"
Adaptica aims to develop and produce the best instruments to perform accurate eye measurements and to speed up the examination time helping medical specialists in the early diagnosis of refractive errors and sight anomalies.
Adaptica's goal is to lower the gap of the people with ocular impairments that could have been prevented. We offer fast, smart, portable, A.I. based solutions, which give the fastest ROI in the market. Uniqueness and simplicity are what distinguish us.
Adaptica represents continuous improvement and solutions rather than just products: Technology, Artificial Intelligence and Cloud storage make us the pioneers in the Eye Care industry.
Our ambition is to revolutionize the standard way to perform eye examination by developing easy to use, portable, simple, smart and A.I. based technologies that guarantee a complete exam, everywhere in the world.
Thanks to our EyeROBO® platform we are on the way to revolutionize the Eye Care system.
A.I. is the best solution to perform exams in a more efficient and costs effective way, making the highest quality health care services accessible to all.
Be part in this change.
Our vision is to provide accessibility to Eye Care Services to each and every person in the world, and in doing so, contribute to preserve and improve patients' sight and quality of vision.
Everybody, everywhere can benefit
To detect and correct Amblyopia Children in America, children in Europe and children even in remote parts of the World can benefit from photo screening with the device like this.
Robert Arnold, Md
Alaska Regional, Native Hospitals, Surgery Center; Scoa
Best chirurgical option before surgery
With the innovative adaptive optics of VisionFit I can make a more accurate subjective examination: finally, the patients can experience their best chirurgical option before surgery.
Dr. Claudio Panico
Chief of Turin Ophthalmic Hospital
Newsroom
This section is where we and our partners share: news, events, articles related to our sector, activities carried out all over the world.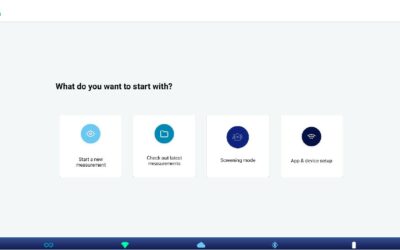 We are proud to present the new Screening Mode, available on our devices 2WIN-S and 2WIN-S Plus. With the latest update of Kaleidos App (version...
Subscribe to our email Newsletter
Subscribe to our email newsletter for useful tips, special promotions and valuable resources.