Onesight screening campaign in Cambodia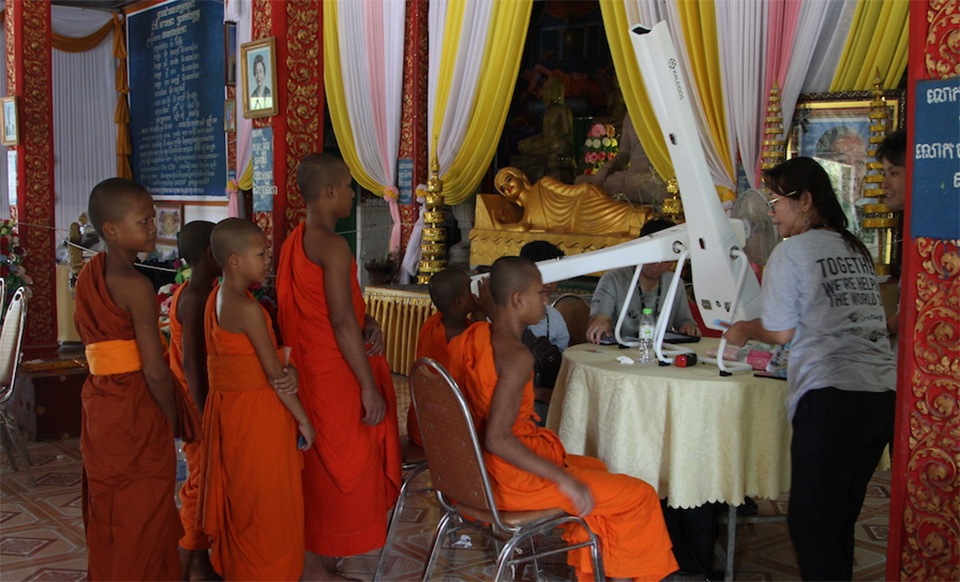 Why Kaleidos is a unique technology for objective refraction to speed up the measurement in screening projects
OneSight -one of Adaptica's partners- and one of the most important independent nonprofit  organizations providing access to quality vision care and glasses in underserved communities worldwide, uses Kaleidos in many of its clinics, especially those in rural areas. Last year's clinic in Cambodia is a perfect example of the usage of Kaleidos in screening projects.
"It's an objective way of measuring the patient's refractive error. The device is tablet-controlled and all the patient does is look into the tube, and the system will automatically make readings of both eyes simultaneously and take some other measurements which are necessary for the manufacturing of glasses."
Kaleidos is a cutting-edge technology. It is a fully portable and automatic objective refractometer and vision analyzer that, in just 3 seconds, measures the refraction of both eyes and discovers other ocular impairments providing a screening of amblyogenic factors. It is light-independent, so it can be used in any environmental light condition.
Cambodia, located in the heart of Southeast Asia, bordering Thailand, Laos, and Vietnam, is a beautiful country full of temples and stunning landscapes. The population there faces incredible challenges daily, with more than 10% of the population living below the poverty line and over 40% of Cambodians earning $2 per day. Cambodia has an estimated population of 12 million people, 85% of whom live in rural areas. With a blindness prevalence rate of 1.2%, an estimated 180,000 people are blind. The main causes of blindness are cataract, uncorrected refractive error and glaucoma. 90% of blindness is avoidable, 79% is curable, and 11% is preventable. On top of that, Cambodia has one of the lowest numbers of eye care specialists per capita in the world.
From May 20 – 24, OneSight hosted a clinic in the rural Ampov Prey Commune of Cambodia, providing free eye exams and glasses to nine local villages in partnership with Khmer Sight Foundation and Essilor Vision Foundation. They were able to serve nearly 1,300 patients in just five days.
Due to the unique challenges presented by the geographic location of the clinic, OneSight decided to take on an agile kitting approach, which uses lighter, more portable equipment to reach remote areas faster and more efficiently. Typically, a clinic this size would require a dozen pallets of equipment to be transported to the site. With their innovative approach, they were able to pack an entire clinic into one pallet of supplies. It's devices such as Kaleidos that make these nimble kits possible, giving volunteers the ability to screen more patients in a short period of time.
Here it's what Jenny Harnett, OneSight Program Manager, said about the device:
"Adaptica's Kaleidos has been a wonderful addition to our OneSight programs around the globe. It's incredibly easy to transport and operate, patients love the fun and interactive experience, and our optometrists have great confidence in the readings. This innovative technology helps us deliver faster, higher quality care to more people, bringing us closer to our goal to help the world see."
The team was composed of 50 members (including 27 OneSight team members, seven employees from  local partner, Khmer Sight Foundation, and 16 local volunteers who assisted with translation.) In just five days, they were able to see precisely 1,263 patients, providing nearly 1,100 pairs of glasses to those in need.
Kaleidos can be a crucial device for screening projects to shorten measurement time and increase the number of screenings. With thousands of patients already screened across dozens of projects, OneSight certainly knows how to make the most of Kaleidos to support its mission to eradicate the vision care gap around the world.
We are happy to inform that Adaptica joins the IAPB Standard List
The Standard List / Valued Supplier Scheme 2020 is a great platform to source and compare eye health products and technologies.
https://iapb.standardlist.org/the-products/kaleidos-plus/
https://iapb.standardlist.org/the-suppliers/adaptica-srl/