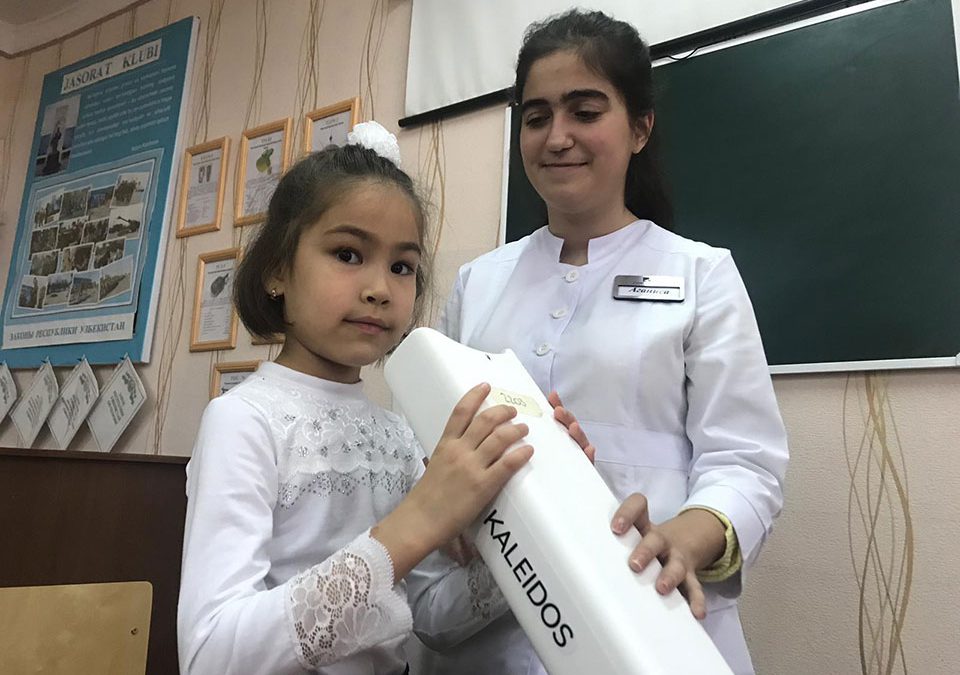 A new technology to prevent visual impairments in schoolar age kids in Uzbekistan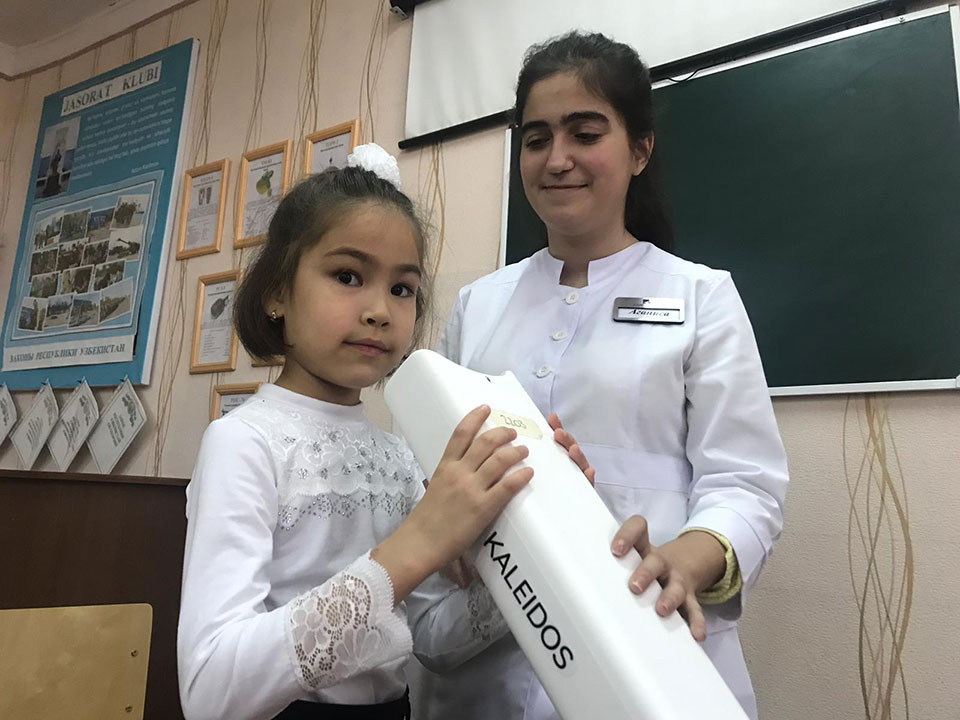 November 2019 – current – As a first appointment of a city's visual impairment' prevention program in Tashkent, Uzbekistan, last 20th November Saif Optima, a leading eye-care clinic in Tashkent, and its doctors conducted for the first time the screening of 241 kids (from 6 to 8 years old) at School 166. The screening was performed in 3 hours directly inside the school facilities, by using the mobile and portable binocular videorefractometer called KALEIDOS.
Ophthalmologists in Uzbekistan are aware of the importance of an early scholar age screening to detect visual impairments, refractive errors and amblyogenic factors. Since November, Dr. Gulchekhra Nazarova and her colleagues from Saif Optima have screened over 700 young children in 3 different outreach school projects (kids between 6 and 15 years old) in Tashkent and referred an average of 48 percent for additional eye examinations (refractions deviations). Of the identified deviations, more than 60% were children with a newly diagnosed pathology with a low level of deviation of refraction.
These screening are the result of a partnership between Saif Optima and the local institutions in Tashkent, the capital of Uzbekistan with over 2.4 million people and around 100.000 scholar age students. The project aimed at increasing the quality and availability of education services for students with visual impairments and to make families and parents aware of the importance of an eye screening in early age. One of the main objectives of the partnership is the detection and prevention of eye diseases at an early stage. In addition to outreach school projects, Saif Optima has implemented its services by providing an entry-level eye screening for all the patients and not (kids, adults and elderly) who enter the clinic. That, just few days after the implementation, has allowed the screening of around 50 adults, 38% of whom have been referred for additional testing. This had been possible by placing one KALEIDOS unit at the entrance of the clinic, and by offering a 3″ automatic eye check, with possibility to receive a complete binocular objective refraction, in combination with an amblyogenic factors screening, with no age or phenotype limitation.
"For the first time in Uzbekistan, we used a 2WIN binocular portable refractometer in Kaleidos configuration. The device is convenient and easy to use. It became possible to determine refractive deviations in a large number of subjects in a short period of time outside a specialized clinic. It became possible to examine young children, what was previously difficult. Using the device allows us to avoid medical expansion of the pupils. Also, the practice of our clinic showed that 2WIN gives a more accurate picture when determining astigmatism, which coincides with the keratometric data of the topographer in comparison with autorefractometers" says Dr. Nazarova. During 2020 the project is to continue with regular school screenings and to stably implement KALEIDOS into procedures of both Saif Optima's owned clinics, by also introducing the new anterior segment screening function and by becoming the first cloud-based screening clinic in Uzbekistan.
These targets and projects have been temporarily stopped, due to the Uzbekistan national lock-down. The responsible of the project, Mr Vyacheslav Mokretsov, is confident that the KALEIDOS technology will ease the restart of the project "The system is portable, automatic and it guarantees the complete functionality also at more than 1m safety distance (patient-operator distance Ed.). The technology will allow us to continue both the outreach programs and the internal screenings in safety conditions, for the patients and for our operators when the lock-down will be over".